24-Hour AC Repair & Maintenance Services in Allentown, PA
A hot summer is much easier to deal with if your home has a properly functioning AC system. However, if your AC system malfunctions, summer takes a turn for the worse. That's where the repair services provided by Maitz can save you. We offer a variety of AC repair services in Allentown, PA that can address any problem you are dealing with. Whether your system has stopped working entirely or seems to be blowing warmer air than usual, we'll look at it and quickly have it running like normal again. 
The best part is that we offer all of this with an unmatched level of speed and convenience. Our 24-hour emergency ac repair is available whenever you need it. So you can get back to enjoying your summer as quickly as possible. Maitz Home Services in Allentown, PA offers high-quality air conditioning services by NATE-certified technicians. Call us today for code-compliant AC repairs you can rely on. 
We Repair Nearly Every Type of AC System
There are a lot of different AC systems out there, from central air to a ductless mini-split system. So, you may be wondering if you have to work with a specific HVAC technician to treat your specific system. This is especially true if your home is older or has an unusual system. 
Luckily, with Maitz Home Services, you don't have to worry about this at all. We have experience with many different types of systems. Because of this, we can repair nearly every type of AC system out there. 
Air Conditioning Repairs & Replacement
Maitz Home Services understands the frustration of having your AC system stop working in scorching hot weather. That's why we are always ready to send a licensed plumber to you when you need us most.
We offer the following AC repairs and more:
AC Refrigerant Recharge
Fuses, Circuit Breakers Repairs
Thermostat Replacement
Condensing Unit Fan Motor Repair
Condensate Drain Line Flush
Compressor Replacement
Replacement Condensing Unit Coil
Condensate Pump Replacement
Condenser Fan Motor replacement
Our technicians are trained to spot AC problems that other contractors will miss. We perform high-quality AC repairs on all makes and models of cooling systems. Let our team bring you cooling relief by providing quality air conditioning services when you need them.
Signs You Need Air Conditioner Repair
It isn't always immediately clear that you need air conditioning repair. You may think that the unit is functioning fine, yet it is wearing itself down in ways that are hard to see. If this goes on for long enough, you may end up needing to install a new AC system rather than just replacing the old one. 
That is why being on the lookout for the signs can be helpful. Doing so allows you to detect problems before they have a chance to get worse. 
Signs you need AC repairs could include: 
The AC doesn't feel like it is working: The entire point of an AC system is to cool the room. However, some will stop doing this and will end up

blowing lukewarm air

instead. When this happens, repair is needed to get the unit working like normal again. 

The air from the AC is humid: Part of an AC system's operation removes humidity from the air. This allows cooling to be more effective. If the air coming from it feels humid, there is something wrong that is disrupting this process. 

The flow of air is weaker: Not all problems will impact the temperature of the air. Some

reduce the airflow

instead. 

The AC cycles are different: A properly functioning AC system should cycle through a period of time when it is running and then a period when it isn't. However, some systems won't do this. Some get stuck in a running position or a mode where they never seem to run. Some even seem to jump from one to the other at near-constant intervals. In any of these cases, something is wrong. 

The unit feels hot: When an AC unit is being pushed beyond its capabilities, it overheats. This is a clear sign that something is taxing the unit too much. 

The system is making odd noises: An AC system should be mostly silent. However, some will start making odd noises when they start to have problems. Getting

professional repair

help will eliminate these noises and any other problems that likely exist alongside them. 

Your energy bill is higher than normal: An AC system will be a draw on energy in any case. However, one that is functioning improperly will

draw a lot more energy

in an attempt to make up for the problems it is experiencing. This will be reflected in your energy bill, which will be higher in months when the system is experiencing problems than in other months. 
3 Types of Air Conditioner Noises & Ways to Respond
Any sound coming from your air conditioner indicates a potential problem. However, the different sounds can indicate different issues. 
Listening to the sounds your air conditioner is making is an effective way to figure out what is wrong with it. Identifying what you're dealing with will help you determine the best way to respond.
Grinding Sounds: An air conditioner has a lot of moving mechanical parts. If a grinding noise is coming from the AC unit, it may indicate that something is wrong with these parts. A fan could be scraping against its surroundings, or two parts could be rubbing against each other. In any case, these problems are unlikely to go away on their own and

must be fixed

before they get worse. 

Hissing Sounds: If you hear a hissing noise coming from your AC unit, it may sound like air is escaping from somewhere. This is because something like this is happening. A hissing noise indicates that you have a refrigerant, compressor, or internal valve leak. These are

serious issues

that need to be addressed through air conditioner repair.  

Buzzing Noises: If you hear a soft buzzing noise from your AC unit, you have a serious problem. The buzz is likely coming from the buzz of electricity, which indicates an electrical issue. Since any

electrical issue is incredibly serious

and can lead to injury, this needs to be taken care of as soon as possible.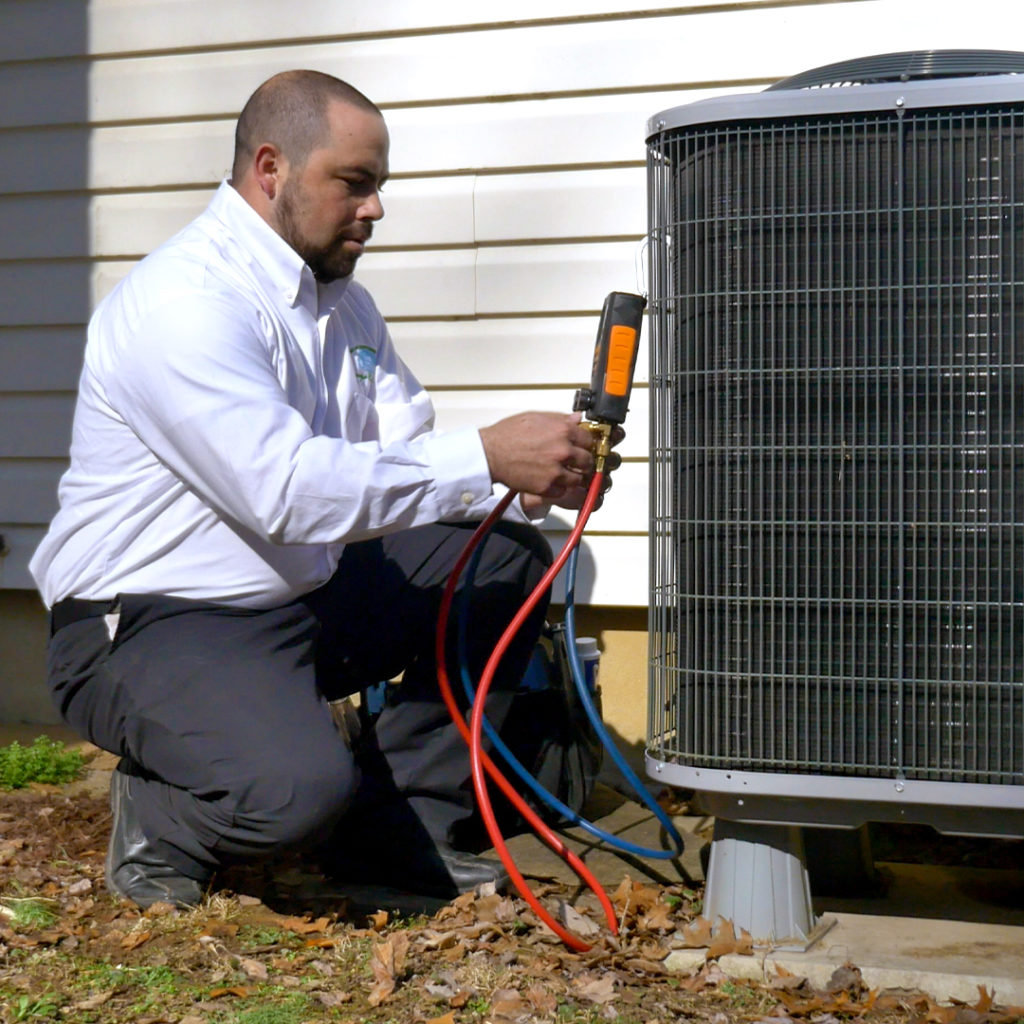 Why Should You Choose Maitz Home Service for Your AC Repair?
If you have a problem with your air conditioner, you don't want just anyone to fix it. A poor AC repair job will still leave the unit functioning in an inefficient way or will fail to address the problem significantly. It may even lead to more repairs being necessary sooner than you had hoped. 
However, with the professionals at Maitz, you don't have to worry about these issues. 
We've been providing our services across the Allentown area for decades and have built up plenty of experience and a solid reputation by doing so. Our ability to address issues quickly and painlessly, alongside our penchant for always getting positive results, has identified our operation as a cut above the competition. So, you can feel free to book our services without worry, as we can handle all of your AC repair needs. 
Updates to the Regional HVAC Equipment Efficiency and Testing Standards
Call us at 1-484-205-9622 for fast, reliable emergency HVAC services! Find your local Maitz today for fast, reliable emergency HVAC services in your area!