Allentown Drain Cleaning and Clogged Drain Repair Services
Say adiós to drain and rooter problems with the drain cleaning experts in Allentown!
At Maitz Home Services in Allentown, we have been clearing drain clogs for over five decades.
We are a licensed and insured drain cleaning contractor who can clear out tough drain clogs and leave them working like new again.
With over 50 years of plumbing service under our belt, we have the experience and skill to tackle any drain stoppage, big or small. We will not stop until your drain is free and clear of dirt, grease, and debris. We also use hydrojetting to clear out those really tough clogs.
Take a look at our customer reviews to get a second (and third!) opinion about our premium services!
Do This Before Calling a Drain Cleaning Professional
We all experience a clogged drain at some point. You can try to take matters into your hands by using everyday items, such as a plunger, a coat hanger, or a snake. Some homeowners will try to dislodge the clog using store-bought drain cleaners and natural home remedies, like vinegar or lemon juice with baking soda. These remedies do work, especially if you are dealing with a small drain clog. However, they are usually temporary fixes that do not offer permanent resolutions.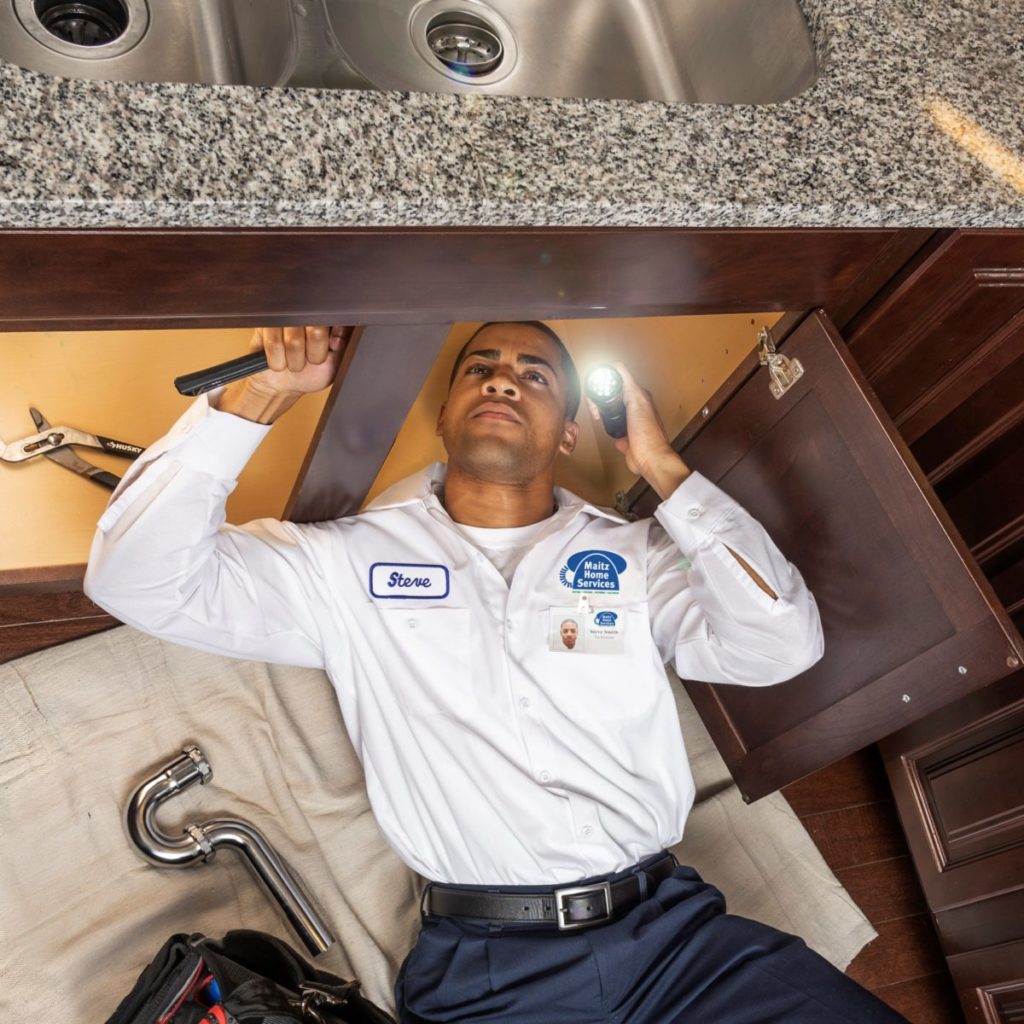 At Maitz Home Services, we offer permanent solutions to clear out any drain clog. We are always ready to help with drain cleaning and other drain issues. We may even apply a more robust drain cleaning techniques, such as hydrojetting if necessary.
A clogged drain should never be taken lightly. If left unattended, a clogged drain can create more costly damage. Call us today for immediate service.
Why You Need Routine Rooter Service
Rooter service can be an important item on your list of drain cleaning maintenance. Tree roots, construction debris, and corrosion can develop on your property risking the safety and performance of your drain and sewer lines. This situation is best left to a reputable rooter service company like Maitz Home Services. Our rooter team uses sophisticated drain cleaning methods to clear the toughest sewer line and drain clogs from tree roots and other hard to reach particles.
Our technicians may use snakes and root-killing products, or even hydrojetting to dislodge severe drain clogs that may result in clogged drains or a complete sewage backup. All of these applications are excellent when used correctly by a licensed expert. Call Maitz Home Services for high-quality drain cleaning services.
For a more powerful drain cleaning solution, hydrojetting is the way to go!
Say Goodbye to Blocked Drains!
Homeowners can practice preventive maintenance to avoid future drainage issues. Once a month, use a plunger in your shower and tub drains to remove any stuck-on debris. Pour hot water with liquid soap down the drain, grind some ice cubes and table salt in the garbage disposal to remove grease. Another good trick is using a drain strainer to keep out hair and soap scum from getting in your pipes.
When you need professional help, Call Maitz Home Services for immediate service. We are always standing by for those times when you need us most.
Call us at 1-484-205-9622 for fast, reliable emergency Plumbing services! Find your local Maitz today for fast, reliable emergency Plumbing services in your area!