Plumber LOCAL Allentown PA COMPANY
Quality plumbing services backed by over 50 years of experience, friendly service, and emergency plumber in Allentown, PA.
Maitz Home Services has been serving Allentown, PA residents for over five decades with high-quality residential plumbing repairs and installations. Our number one goal is to provide customer satisfaction with every job we do. You will not find a more trusted plumbing company anywhere. All of our work is done by highly trained plumbers who have the experience, training, and tools to locate plumbing issues and make the necessary repairs quickly.
From water heater repair to gas leak detection to whole home repiping, our team can handle a full range of your plumbing concerns!
Comprehensive Plumbing Services
From drain cleaning and fixture replacement to heating and cooling repairs, we are a licensed and insured plumbing service company serving Allentown and surrounding areas with a complete line of services and products. Call us anytime to speak to a knowledgeable and friendly plumbing specialist.
Here is a list of some of our top plumbing services:
The next time you are in a plumbing emergency, or if you want to update your plumbing, call Maitz Home Services for service you can rely on.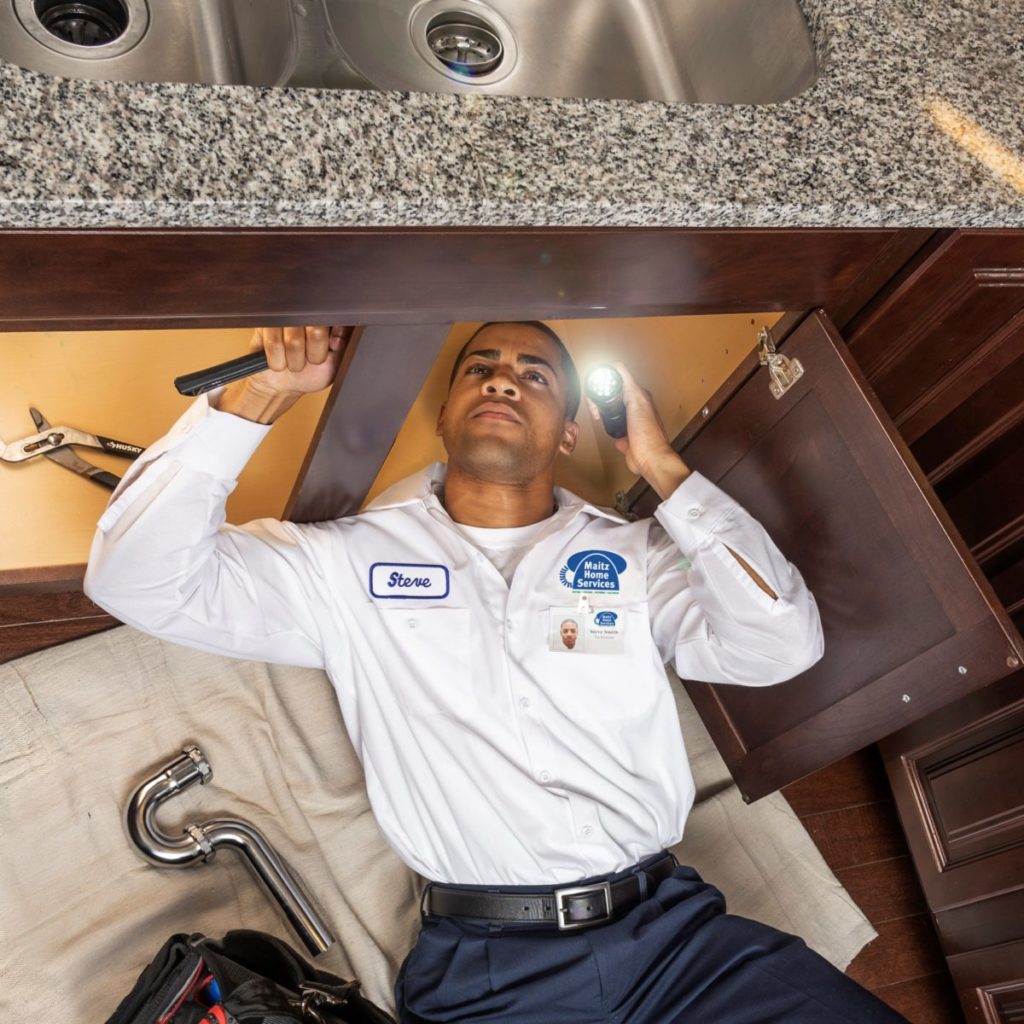 Allentown Repiping Specialists
If you live in an older home that still has the original piping, you may want to consider repiping your home. But repiping is not only reserved for older homes. Newer constructions may also require repiping, particularly if the existing pipes are corroded or cracked.
Frequent leaks and low water pressure are sure signs that you need to replace your pipes. whole-home repiping. If a whole section of your piping system is leaking, repiping your entire home may be the best option.
At Maitz Home Services, we know a thing or two about pipes. We have been repairing and replacing pipes on properties for decades. Our experienced plumbers understand the complexities of repiping, and they are trained to work with all kinds of pipes. You can be sure that we will install the right pipes in your home.
We carry all types of pipes including the following:
Copper
Cast iron for waste lines
Galvanized iron
Chromed brass
Chromed copper
CPVC (Chlorinated Poly-Vinyl Chloride)
PVC (Poly-Vinyl Chloride)
Did you know we also install energy-efficient water heaters, including tankless? We do!
Burst Pipe & Water Leak Detection
Burst pipes happen, particularly in frigid cold weather. In colder climates, pipes will freeze and subsequently burst. If a pipe bursts in your home, don't wait until it gets worse before calling a professional! This will only compound the situation and result in further damage and expensive costs. Call Maitz Home Services for high-quality burst pipe repair.
If you see standing water near or around your piping system, chances are you have a leaky pipe somewhere. At Maitz Home Services, we have water leak detection tools that can quickly locate the source of the water leak, so we can repair it quickly before it does further damage. We are the water leak detection company that more residents trust than any other in the area.
Call Maitz Home Services Plumber in Allentown, PA to discuss your needs and schedule service!
Call us at 1-484-205-9622 for fast, reliable emergency Plumbing services! Find your local Maitz today for fast, reliable emergency Plumbing services in your area!