At Maitz Home Services we've been serving the people of Macungie, PA and the surrounding areas with top-rated plumbing repairs and installations for over 50 years. Our highly trained techs are clean and treat every home they work in like their own. Call us the next time you need a reliable plumber.If you're still on the fence about our services, just check out our customer reviews and see what your friends and neighbors are saying.
Emergency Plumbing Services
Sometimes, you can't fix a plumbing problem by yourself and you need to call in a professional plumbing company for help. Here are the most common reasons you might need a pro for help.
Burst pipe repair
Failed water heater
Sump pump failure
Clogged drain line or main water line
Water leaks
Water leak detection
At Maitz Home Services, our
Expert techs have seen everything and can handle any plumbing emergency.
What Causes Clogged Drains?
Everyone has experienced a clogged drain, and while they're a nuisance, most times they're easily fixed. The key to fixing a clogged drain is to avoid them in the first place if possible. Here are a few tips to stop your drains from clogging.
Don't pour cooking grease down the kitchen sink. Instead, save it in a can or jug and throw it out with the trash.
Pour used coffee grounds in the trash or add them to your mulch pile.
Install a screen filter in your kitchen sink drain to catch large food debris.
Pour hot water down the sink after use to keep oil and grease from building up.
Don't flush sanitary napkins or other un-flushable items down the toilet.
If you have a stubborn clog you can't get rid of, call Maitz Home Services for our expert clogged drain repair services.
We have an interesting story to tell. Check it out on our About Us page and call us when you need a drain cleaning company!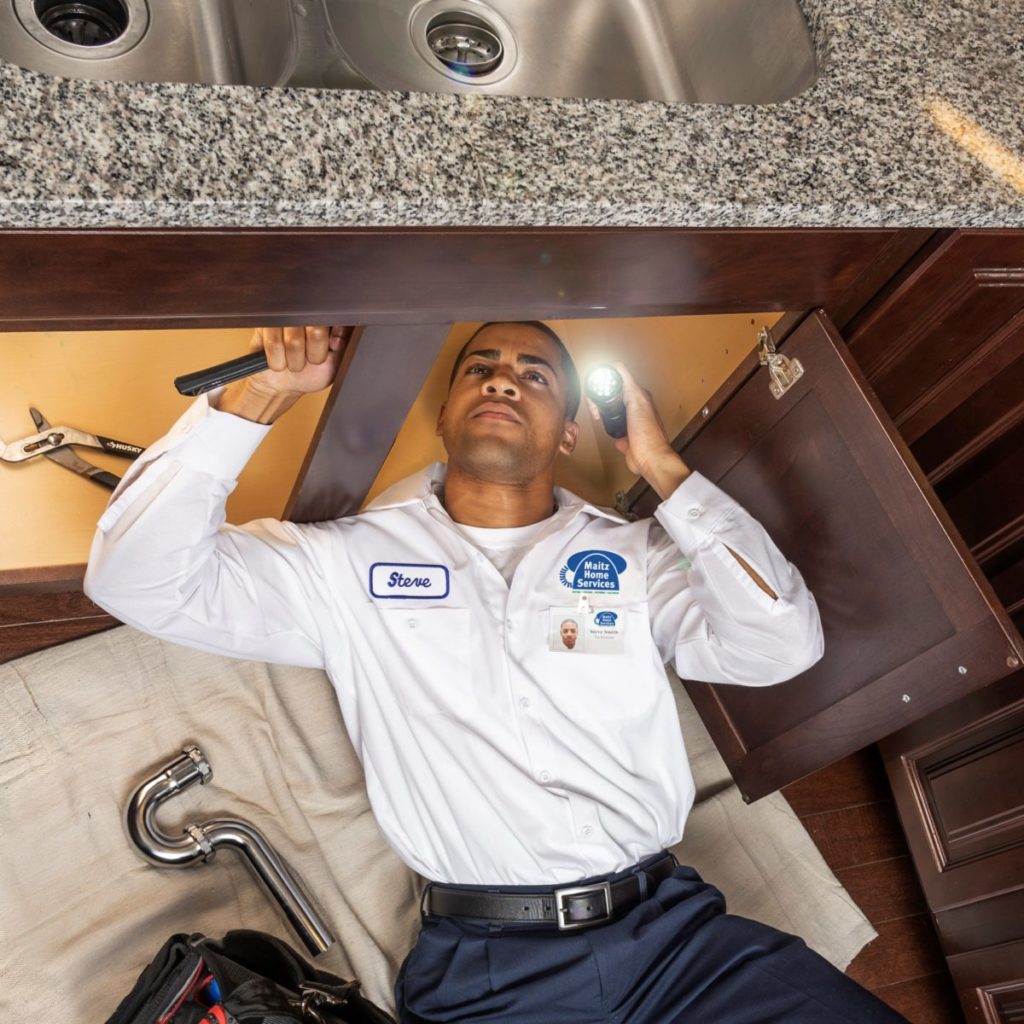 Your Water Heater May be Dying – Here's How to Know
Don't wait until you wake up or come home to a flooded floor or have no hot water because your water heater failed. Get to know the symptoms of a dying water heater so you can get it repaired or replaced before disaster strikes. Here are the symptoms to watch out for.
Murky or cloudy water
Rust around the base of the tank
Water doesn't get as hot as it used to
Your water heater is over 10 years old
Loud noises such as banging coming from the tank